Vengeance eSports is a new eSports organization focusing on League of Legends, Dota 2, SMITE and a few more games.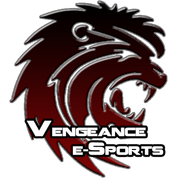 Current Roster
Edit
Former Roster
Edit
Next Team

Edit
Pakuzza
Solo Lane
Reason Gaming EU

repikas
Thomas
Jungler
Epsilon eSports

Frezzyy
Oskar Lasota
Mid Lane

FrostiaK
Arkadiusz Krupka
Hunter
Cloud 9

LennoX
Guardian
Epsilon eSports

Gese
Gustav Sandberg
Guardian
Vindicate

Limepojken
Jimmy Stenvall
Hunter
Vindicate

Vensushi
Mid Lane
Vindicate

IvanDrago
Ivan Black
Hunter
Vindicate

campbelliny
Liam Campbell
Guardian
Vindicate
Ad blocker interference detected!
Wikia is a free-to-use site that makes money from advertising. We have a modified experience for viewers using ad blockers

Wikia is not accessible if you've made further modifications. Remove the custom ad blocker rule(s) and the page will load as expected.