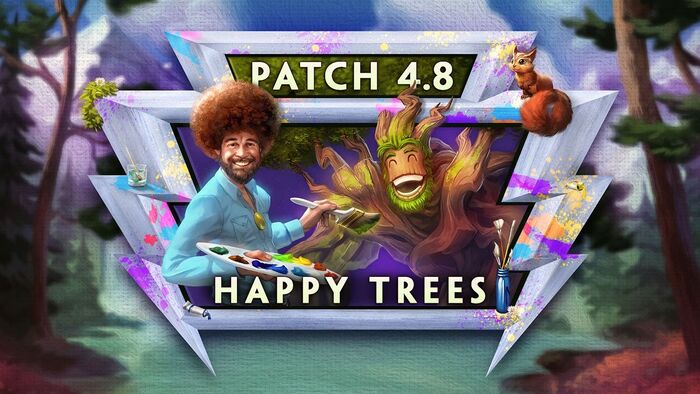 Patch notes available on PC notes + Console notes!
New God Skins
Edit
God Achievements
Edit
Ganesha
Ohm!: As Ganesha, Silence 3 or more enemy Gods with a single cast of his Ohm Ability.
Pacifist: As Ganesha, give 1 or more Kills to an Allied God.
Twitch Bob Ross Event
Edit
Bob Ross Bundle
Bob Ross [Sylvanus]]
Loading Frame
Loading Screen Skin
Paint Splatter Jump Stamp
Bug Fixes
Edit
Phantom Veil

Fixed an issue where it would make Isis' wings invisible.
Item Changes
Edit
Emperor's Armor

Increased Physical Protections from 30 → 40
Increased Passive Allied Tower Attack Speed Buff from 30% → 40%

Hastened Fatalis

Increased Cost from 2300 → 2600
Increased Attack Speed from 20% → 25%

Shogun's Kusari

Decreased Cost from 2400 → 2200
Decreased Magical Protections from 60 → 50
Increased Attack Speed Aura from 15% → 25%
God Changes
Edit
Ad blocker interference detected!
Wikia is a free-to-use site that makes money from advertising. We have a modified experience for viewers using ad blockers

Wikia is not accessible if you've made further modifications. Remove the custom ad blocker rule(s) and the page will load as expected.